It has been a bumper week for abuse of state power. Here are some of the highlights:
Bradley Manning goes down for 35 years. On the watch of the 'liberal' president, Barack Obama. The FT (sub needed) argues that Manning got off lightly and may get parole in 10 years. The Guardian takes a different view on the proportionality of Manning's sentence, a position closer to mine.
While the reaction pieces are being penned, Manning expresses a desire for hormone treatment to assist in a desired gender reassignment. Federal prisons offer this, military ones do not. Manning has asked that she [sic] be referred to henceforth as Chelsea, with the former name Bradley reserved only for letters to the the confinement facility at Fort Leavenworth, Kansas. There are worse ways to spend half an hour than writing him/her a letter of support, so why not do so?.
From, for me, the damaged but well-meaning Manning to the thoughtful, lucid and brave Edward Snowden. In the UK, Alan Rusbridger, Guardian editor, reveals threats from the British government, securocrats, and indirectly from David Cameron himself, to pre-emptively shut down further reporting of the Snowden cache using British legal powers of pre-emption.
It is depressing to read how the poodles in the UK government told their bosses in Washington that Guardian journalist Glen Greenwald's partner David  Miranda would be detained at Heathrow, how Met police say they checked they were using anti-terrorism legislation correctly and how the police reckon they were procedurally perfect. Having taken the call from the lickspittle Brits, Washington then moved to distance itself from the Miranda detention and the seizure of his possessions, saying it wouldn't happen in the US. As the Economist points out (sub needed), the anti-terrorism legislation under which Miranda was detained was established for the police to ascertain if a person "is or has been concerned in the commission, preparation or instigation of acts of terrorism". To use such legislation against journalists is grotesque.
Over to China, where 70 policemen take the unusual risk of appending their thumbprints to a denunciation of the acting president of the Shanghai High Court who, they say, has been engaged in massive long-term corruption including stealing several tons of alcohol from the police booze budget each year. Court president Cui Yadong was already feeling the heat after senior Shanghai judges were recently captured on video cavorting with prostitutes. The video of the judges has had over 4 million hits.
Separately in China, the New York Times discusses 'Document number 9' and the alleged 'seven subversive currents' at large in the Chinese nation. Per my recent blog about Xi Jinping, we are starting to get more visibility on the new Chinese president and what we are seeing is not pretty. Xi's evolving proto-Maoist approach to politics provides the background to the trial on corruption and abuse of power charges of fellow princeling Bo Xilai, which started this week. Bo was the person who invented the 'New Red' school of modified Maoist populism when he was running Chongqing. As Xi and pals move to crush him, the irony and hypocrisy are not lost on John Garnaut in Foreign Policy.
Here in Italy, meanwhile, we are enjoying a peculiarly Italian twist on the abuse of state power. Silvio Berlusconi, having been definitively condemned for a felony for the first time, has opted for an attack on state power that recalls, for me, Italy's fascist past (much more so than the claims, which I previously dismissed on this site, that Beppe Grillo is proto fascist). Over the Ferragosto holiday Sil promised a programme of direct action on Italy's beaches, with his supporters leafleting holiday makers who would otherwise be trying to catch a rest. The focus of Sil's campaign is not so much a proposal for structural reform of the judiciary, or indeed enforcement of existing norms (which would be half the job done already), but instead a direct attack on magistrates and judges as a species. The strategy has more than a whiff of hoped-for intimidation.
Here is a lead story (in Italian) from Berlusconi's Il Giornale during the holiday. Although the article was on the front page, it has no news content, and comprises a simple frontal assault on the judiciary, likening its perceived efforts to 'attain political power' over the nation to Mao Zedong's Long March. The connection with Maoism/communism is established in the first sentence. Italy, we learn, does not have a mundanely inefficient legal system to be improved by systemic change, but an extremist, personal, visceral political conspiracy against the Italian people (to wit, Sil and his businesses).
Here are some current icons from Berlusconi's PDL/FI site:
The manner in which Berlusconi's personal interests, those of the Mediaset group he controls, and national politics are conflated is bewildering for anyone from the First World. But of course this is not the First World. Next month Sil will relaunch Forza Italia (FT, sub needed), his original political movement named for a football chant (in the country that now boasts the worst record of football violence and racism in western Europe). 'Ancora in campo' / Back on the Field is the new tag line.
To me the strategy looks more than a little fascistic, involving as it does an attack on the institutions of the state and promises of more direct action. However, as the holidays wind down I suspect that we won't see a proto-fascist movement take hold in Italy. Instead we will see business as usual.  The main evidence of Sil's promised campaign of direct action so far (the plan on the beaches described here in the FT, sub needed) is a few Forza Italia militants in Rome (here telling journalists they have not been paid to march, that they are 'spontaneous volunteers' and that they have 'just come for Him [Sil]') and a pisspoor little plane dragging a bit of superannuated toilet paper above a few holidaymakers. 'Forza Italia, Forza Sil', I think it says.
I don't want to do you down Sil, but I'm not sure you've really got the fascist cojones for this thing….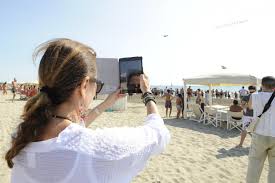 Meanwhile, my own experience with abuse of state power occurs when I stop at Sasso, the bar on the river on the way to Citta di Castelllo. Despite the fact that there were few people around when I stopped, and lots of safe parking available, a carabinieri police car was parked across the zebra crossing that leads to the children's playground, with two wheels outside the white parking line and hence well into the road. Thinking this a bit slack, even by Italian police standards, I took a photo on my phone. Walking into the bar, I found two carabinieri eating cream buns. I bought a small bottle of cold water and went outside to drink it in the sun.
While I was doing this, it seems one of regular clients at the bar told the carabinieri I had taken a photo. One of the carabinieri came over and demanded 'a document'. Of course, I said, handing him my EU photo driving licence. He took it away and wrote down all the details, resting on the boot of his car. Then he came back and said: 'I have taken down all your details because you took a photo.' I replied: 'Yes I did take a photo because of the way you parked.' The policeman responded: 'You have no idea what business we are engaged on here.' I resisted the urge to reply: 'It looked like you were engaged in eating cream buns.' Both policemen were standing over me, not completely in my face, but close enough to make me feel uncomfortable.
The officers then made a series of threats:
1. 'We have your details. If that photo is published on the Internet [he only seemed concerned about the Internet] we know who you are.' I replied that I have no problem with them knowing who I am.
2. [from the second carabinieri, thinner and younger]: 'That is a MILITARY vehicle. Do you understand?' I replied that I am fully aware that the carabinieri is a para-military force.
3. The first officer mentioned seizing my phone (the verb he employed was 'sequestrare'). I remained impassive, just looked him in the eye. There were a few people around the bar (maybe 8), plus the female boss, whom I have known for years. He didn't take the phone in the end, just saying: 'Get rid of that photo or I will seize your phone.' I said nothing.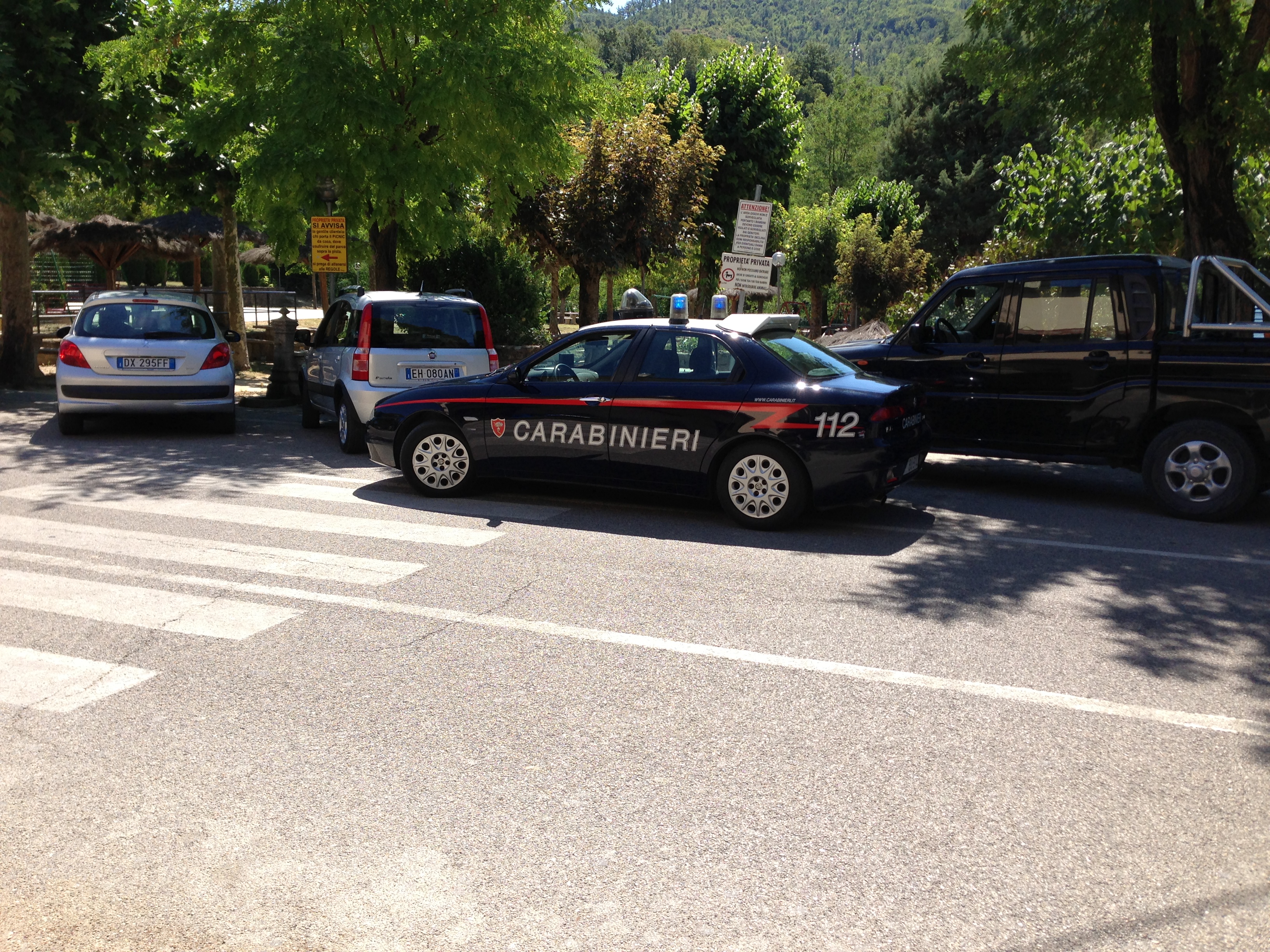 At this point the policemen appeared to run out of threats. They went back to their car, got in it, turned around, and followed me to Citta di Castello, before turning off in the direction of the police station. Should I complain to the justice system or should I launch a proto-fascist programme of direct action? Thankfully this dilemma no longer presents itself. I now live in Cambridge. I think I'll just go home.
More:
If you would like to harass people on street corners until Silvio is let off his felony, you should be able to sign up at the site below. (Latest talk is of a general amnesty for convicted felons facing up to as much as four years' jail time. This would be a triple triumph — saving money spent on prisons, reducing Italy's huge trial waiting lists, and getting Sil off his fraud sentence (plus other sentences that may soon follow). The only downside would be to put a few thousand crooks, some of them violent, back on the streets. What is not to like?)