Isn't it great when art is important, as well as nice to look at?
If you get the chance to see Ai Weiwei's show at the Royal Academy in London, go.
It starts with dead trees in the courtyard outside. They have been sawn up and then put back together with iron bolts. This breaking and rebuilding is a favourite trope of Chinese artists who grew up in the Cultural Revolution. Ai opens with a new variant on it.
Inside, everything, to quote Ai's dictum, is politics and everything is art at the same time. A large room is filled with 90 tonnes of iron rebars from buildings that collapsed in the Sichuan earthquake in 2008. The reason many public buildings fell down is that they were not sufficiently reinforced with steel; the unspoken accusation is that contractors skimmed off money by skimping on steel. On the walls around the sculpturally arranged rebars are the names of several thousand children who died in the earthquake, their names, school classes, schools and towns meticulously recorded, as collated by Ai and his group.
In another room is an installation built from the rubble of Ai's Shanghai studio, bulldozed when the government decided it had had enough of him.
Much of the work has actually been done by Chinese craftsmen. Ai provides the ideas — a sort of uncorrupted Damien Hirst running an atelier with a rationale beyond mere self-enrichment. There is a pair of handcuffs sculpted from a single piece of jade. There are CCTV cameras in marble. Ai has even re-wallpapered several rooms of the Royal Academy, including with copies of the tax payments that supporters paid on his behalf when the government hit him with a huge tax 'bill' as a means to finger him as a criminal. The work in marble, hard wood, jade and so on connects traditional China with contemporary China in a manner that is subtly subversive. It highlights the beauty of traditional craftsmanship at the same time as making just the type of connection between New China and old imperial China that the government rejects — a connection to do with unaccountable power.
There is more than enough stuff that is not aggressively political to give the show balance. Equally, the finale, about Ai's incarceration, is cleverly handled. It focuses on the psychological torture he underwent. In half a dozen large iron boxes, he is rendered as a waxwork with two guards standing over him has he variously eats, sleeps, undergoes interrogation and defecates. There is no physical violence, but the emotional violence, which can only be viewed through small holes in the iron containers — at one end, and from above, by standing on a step and craning over the top of the box — is palpable. A cheap fan in each 'room' produces noise and air movement that makes the experience far more real than any Madame Tussaud's waxwork.
I wasn't sure how serious Ai was before going to this exhibition. He is very serious and it is a must-see.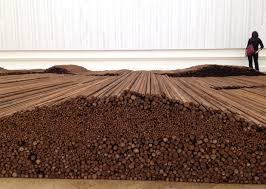 Tags: Ai Weiwei, art, Chinese police, Royal Academy