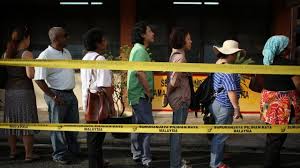 Results are in and the opposition alliance won only 89 seats in Sunday's election. The ruling UMNO alliance took 133 seats, down only 5 from the last election.
Still, there were some important shifts in voting patterns.
The main ethnic Chinese opposition group, the Democratic Action Party (DAP) did very well, a reward for years of political hard work and standing up to the bullying and intimidation of UMNO. UMNO's in-house ethnic Chinese running dog party, the Malaysian Chinese Association (MCA), did very badly and looks like political toast. This is good news.
The opposition Pan-Malaysian Islamic Party (PAS), campaigning for the introduction of sharia, faired poorly. Anwar Ibrahim's policy to bend with the wind and let PAS have whatever it wanted backfired.  This is also good news.
Malaysia can be added to the list of countries whose electors are now more grown-up than its politicians.
Still, going forward I would expect another period of misery as Najib fails to deliver any significant internal UMNO reform.
The pain will likely be leavened for the middle class by a stock-market bull run, for which all the pieces are now in place.
As the official ad campaign has it, Malaysia Truly (south-east) Asia.
Just in:
GaveKal, the firm that bought my interest in Dragonomics, reports that Sabah and Sarawak are 18% of the population but 36% of BN seats following the election (see Mr. Yap's comment).
Household debt in Malaysia is now 80% of GDP, with the average family spending 44% of income to service debts. (It's that old IMF trope — seen throughout south-east Asia — a first world financial structure with a third-world economy).
UMNO/BN got back in with lots of spending promises, but the fiscal deficit is already 5% of GDP.
Tags: Malaysia