After only a quick sniff, Goofy has rejected the bone offered to him by Donald Duck. Worse still, Goofy stayed up all night making a digital collage of Donald Duck in a death shroud, declaring (and I have to say I sympathise) that any self-respecting duck who had led his followers to such a disastrous showing in this week's Disneyland election should have resigned immediately.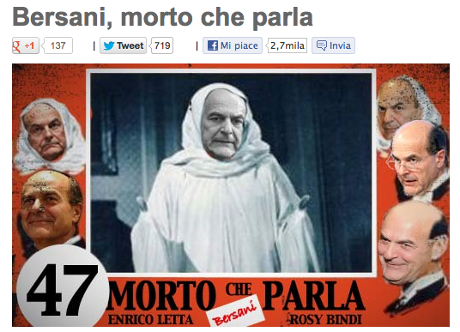 Even worse still, it turns out that Goofy has kept a list of all the nasty things that Donald has said about him since the beginning of Disneyland itself and Goofy has posted the list to his web site:
"Con Grillo finiamo come in Grecia"
"Lenin a Grillo gli fa un baffo"
"Sei un autocrate da strapazzo"
"Grillo porta gente fuori dalla democrazia"
"Grillo porta al disastro"
"Grillo vuol governare sulle macerie"
"Grillo prende in giro la gente"
"Nei 5 Stelle poca democrazia"
"Grillo fa promesse come Berlusconi"
"Grillo dice cose sconosciute a tutte le democrazie"
"Grillo? Può portarci fuori da Europa"
"Basta con l'uomo solo al comando, guardiamoci ad altezza occhi, la Rete non basta"
"Se vince Grillo il Paese sarà nei guai"
"Siamo di gran lunga il primo partito e questo vuol dire che siamo compresi. Perché a differenza di quello lì che urla, noi ci guardiamo in faccia, noi facciamo le primarie, stiamo tra la gente"
"Indecente, maschilista come Berlusconi"
"Da Grillo populismo che può diventare pericoloso"
Ora questo smacchiatore fallito ha l'arroganza di chiedere il nostro sostegno: "So che fin qui hanno detto 'tutti a casa' ora ci sono anche loro, o vanno a casa anche loro o dicono che cosa vogliono fare per questo paese loro e dei loro figli".
So much for dogs being 'best friends'!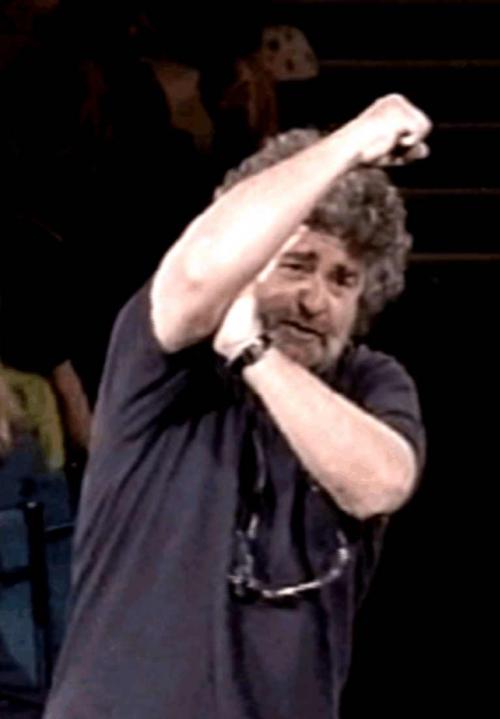 Goofy's blog is here.
Tags: Beppe Grillo, Italian politics